Integrated Motion Sensors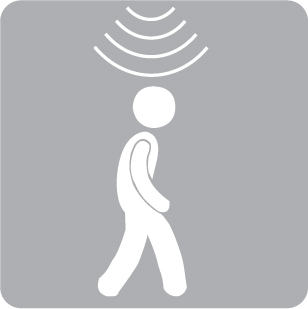 AFX offers an array of products with energy-saving, microwave motion sensors as an option. These fix-tures are ideal for spaces like stairwells, garages, offices, hospitality environments where local require-ments frequently dictate the use of a motion sensing device to reduce energy consumption while the space is not being used.
AFX Motion Sensor Features:
Built-in daylight sensor
Detection area, time delay, dimming level, and daylight threshold can be precisely set via DIP switch
Wide detection area, range up to 50 ft. max
How Motion Sensing Works

With sufficient light, the fixtures will not switch on.

With insufficient light, the fixtures turn on at desired dimming level (10% - 50%).

When motion is detected, fixtures switch to full light output.

After standby period of no motion, fixtures return to desired dimming level (10%-50%).
Product Categories
Sensor Technical Specifications
| TRANSMITTING POWER | 0.5mW |
| --- | --- |
| POWER CONSUMPTION | ≤0.5W(standby), <1W(operation) |
| DETECTION ZONE | Max.(DxH): 16m x 15m |
| DETECTION SENSITIVITY | 10% / 50% / 75% / 100% |
| HOLD TIME | 5s / 30s / 90s / 3 min/ 20 min /+∞ |
| DAYLIGHT SENSOR | 2lux / 5lux / 10lux / 25lux / 50lux / 1h/ +Disable |
| STAND-BY PERIOD | 0s / 5s/ 5min/ 10min / 30 min / 1h / +Disable |
| STAND-BY DIMMING LEVEL | 10% / 20% / 30% / 50% |
| MOUNTING HEIGHT | 15m Max. |
| MOTION DETECTION | 0.5~3m/s |
| DETECTION ANGLE | 150° (wall installation), 360° (ceiling installation) |